Many women all over the world wear pantyhose, nylons, and tights every day. They are highly regarded in the fashion world and they are also very comfortable when wearing dresses, skirts and other similar type clothing. Unfortunately, these pantyhose, tights and nylons do not benefit your feet. In fact, they could actually be harming your feet and here is why.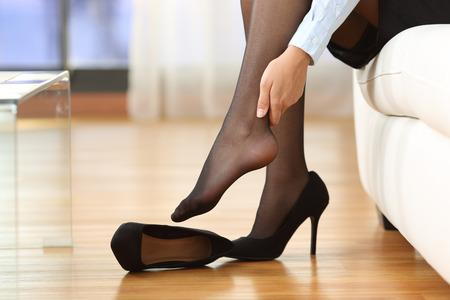 Signs Your Hosiery is Damaging Your Feet
You have excess fabric - the excess fabric will bunch up around your toes or heels, rubbing against the skin. You may suffer from blisters, calluses, corns and skin irritation as a result. It can also result in cramping and cause your foot to fit improperly in shoes.
Your tights, nylons or stockings are too tight - Overly tight hosiery distorts the natural shape of your feet, limits movement and puts pressure on toes. You could develop bunions, hammertoes, ingrown toenails, fallen arches and poor circulation. All conditions are very painful and can cause permanent foot damage if not properly treated by a podiatrist.
The fabric is too thin – Thin fabric does not supply the right amount of support and cushion to the feet, which can cause tired feet and lack of stability when walking.
They are made out of abrasive fabric - Cheap nylon tights aren't breathable so sweat struggles to escape. Dampness makes nylon feel rougher; the tights can then easily make your feet sore and painful. The feet are also prone to blisters.
Buying the Right Socks and Tights
Choose nylons, pantyhose and tights that are roomy enough to allow your toes to spread out without leaving excess fabric.
Wear white socks and pale tights whenever possible. If your feet bleed, secrete pus or sweat too much, it'll be easier to spot the problem than with dark hosiery.
Never wear the same pair for two days or more, and always change socks after exercise.
If you suffer from blisters, calluses, corns or other problems due to wearing pantyhose, nylons, or tights, it is important to see a podiatrist right away so that the damage does not cause an infection. Call Dr. Alan J. Discont and Dr. Krahn of Family Foot & Ankle Care, PC located in Chandler, Arizona. Call 480-732-0033 or make an appointment online today. Your feet are our number one priority.