Serving Chandler, AZ and Surrounding areas
Chandler AZ Podiatrist
Family Foot & Ankle Care, PC
600 South Dobson
Chandler
,
AZ
85224
(480) 732-0033
(480) 732-0038
fax

OUR OFFICE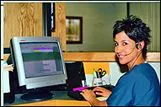 Dr. Alan Discont & Associates have provided modern state of the art foot & ankle care in the Southeast valley for over 30+ years. Family Foot & Ankle Care is a professional association of board qualified and certified medical specialists. Our goal is to provide the best medical care and services possible from infants to advanced seniors. We give special personalized attention to your foot and ankle problems.
APPOINTMENTS / OFFICE HOURS
Appointments are scheduled between 8:00 am and 5:30 pm daily . For your convenience, we have a cancellation waiting list and keep several appointments open daily for emergencies. At Family Foot & Ankle Care, we realize that your time is valuable and intend to keep your wait to a minimum. If you cannot keep your appointment or will be delayed, please call us as soon as possible so we can assist you. A missed appointment hurts three; you, the person waiting for care, and the office.
To make an appointment:
Call our special appointment line at (480) 732-0033 or click on Request an appointment and request a convenient time. Your appointment request will be confirmed within 24 hours by a staff member.
After Hours and emergencies:
If you have an emergency or need to reach the doctor on call, please call our office and the doctor on call will return your call promptly.
"We are as close as your phone when you need us."
INSURANCE / OFFICE FEES
We participate in over 60 local and national insurance programs including Medicare, most HMO, PPO, Union, Industrial and private plans. Please call our office so we may confirm your plan participation.
Our staff insurance counselors are experts in claims processing. They will assist you by explaining all costs in advance, and as a courtesy, we can process your insurance paperwork for you. It is important that you have your identification cards and referrals with you at the time of your first visit, so that we may correctly identify your insurance plan coverage. Of course, you are expected to pay your office visit co-pay, your co-insurance percentage and your regular deductibles. Both offices accept personal checks and all major credit / debit cards for you convenience.