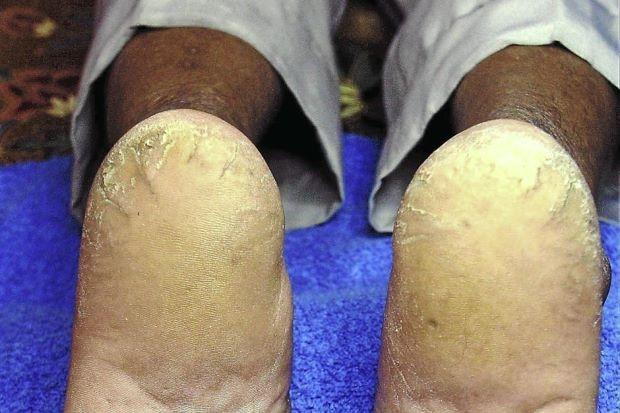 Unfortunately, many men do not take adequate care of their feet. As a result they are at risk for developing dry or cracked heels, which are also known as heel fissures. Cracked heels are not only unsightly but can be painful as well. Fortunately, there are several home remedies that are easy and effective at treating this condition.
One method entails soaking your feet in water, then using a pumice stone to scrape off dead skin. As an alternative, the water can replaced with a foot mask made of water, salt, lemon juice, glycerine, and rose water and left on the feet overnight. Another treatment suggests honey and olive oil are both great for moisturizing the skin, and are especially useful for treating cracked heels in the early stages.
Both men and women suffer from cracked heels, which can lead to other complications when left untreated. If you are experiencing cracked heels, consult with podiatrist Dr. Alan Discont of Family Foot and Ankle Care, PC. Dr. Discont can treat your heels as well as any other foot or ankle condition.  
The Truth about Cracked Heels
How do you get them?
Dry skin is the number one culprit in creating cracked heels. Many athletes, walkers, joggers, and even swimmers suffer from cracked heels. Age and skin oil production play a role to getting cracked heels as well.
Promote Healing
Over the counter medicines can help, especially for those that need instant relief, or who suffer from chronic dry feet.
Pumice Stones– these remove dead skin, and then you can massage cream onto your foot. This way the cream will be absorbed.  
Change in Diet
Eating healthy, with a well-balanced diet, will give the skin a fresh and radiant look. Omega-3 fatty acids and zinc supplements will help with skin tissue.
Most importantly seek a health professional for foot care if something is wrong or doesn't seem to be working. A podiatrist will help you with any questions or information needed. 
If you have any questions, feel free to contact our office in Chandler, AZ. We offer the latest in diagnostic and treatment technology to fit your needs.
Read more on Cracked Heels.