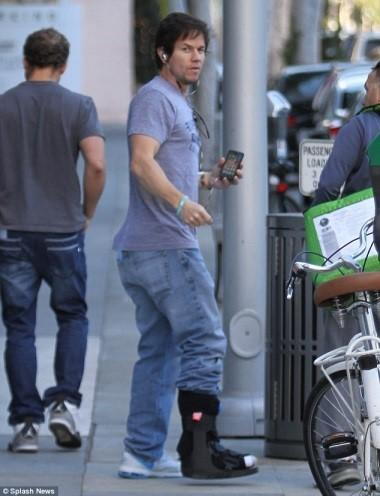 Actor Mark Wahlberg may have had recent surgery to remove an ingrown toenail, but it hasn't stopped him from working on his new movie, a remake of The Gambler. Wahlberg was seen on set without the post-op boot he's had to wear around recently.
The boot was also missing from the actor's outfit during the Critics' Choice Awards, although he's been seen wearing it on the street earlier that day. Wahlberg's latest film, Lone Survivor, was a big success with audiences and critics.
Ingrown toenails are deformities known for causing a lot of pain and discomfort. If you think you might have an ingrown toenail, consult with a podiatrist like Dr. Alan Discont of Family Foot and Ankle Care, PC. Dr. Discont will diagnose your condition and offer you expert guidance as you prepare to get it treated.
Ingrown Toenails Causes
Ingrown toenails occur when a toenail grows sideways into the bed of the nail, causing pain, swelling, and possibly infection.
There are a number of risk factors for ingrown toenails. Some include cutting your nails too short, participating in strenuous sports, diabetes, obesity, and fungal infection. Some are genetically predisposed to ingrown nails, although wearing ill-fitting or damp shoes can exacerbate the problem.
Treatment
There are a number of steps you can take to treat ingrown nails:
-Let your toenails grow out
-Soak the toes in hot water with antibiotic soap or Epsom salts
-Placing a piece of cotton under the affected nail may allow the toe to grow up instead of into the nail bed
-Rest with your feet up
If however, your pain is severe, or you see red streaks running up your leg, you should see a podiatrist. Your podiatrist may make a small incision and remove part of the toe nail to relieve the pressure. A local anesthetic may be used to lessen the discomfort of the operation.  Topical medication may also be prescribed to prevent the regrowth of the problem nail. You will probably have to stay off your feet for a day or so, but should be able to carry on normal activities quickly.
If you have any questions, feel free to contact our office in Chandler, AZ. We offer the latest in diagnostic and treatment technology to fit your needs.
Read more about Ingrown Toenails.